Products
Products
Our precise and durable carbide cutting tools are just
what you've wanted for an innovative tooling solution.


• Endmill for high hardness steel cutting
Feature
• Stable cutting from high hardness substrate and exclusive new coating layer with good wear resistance application
• Improved initial chipping resistance with optimized edge treatment for high hardness steel cutting
H-Star Endmill

High hardness heat treated workpiece (HRC50~63) used for automobile, mold and general industries has features like high hardness, outstanding durability and excellent wear resistance.
Those features occur severe impact on the cutting edge so it makes hard to apply high speed cutting due to frequent chipping and fracture.
The H-Star Endmill improved wear resistance applying ultra-fine substrate and newly developed AlTiSiN coating layer which also ensures stability in cutting from frictional heat. In addition, the optimal cutting edge shape and special treatment on it improve chipping resistance in the beginning of cutting and realize stable cutting.
KORLOY recommends H-Star Endmill which is the optimal tool for high hardness heat treated workpiece machining to improve our customers' productivity.
Advantages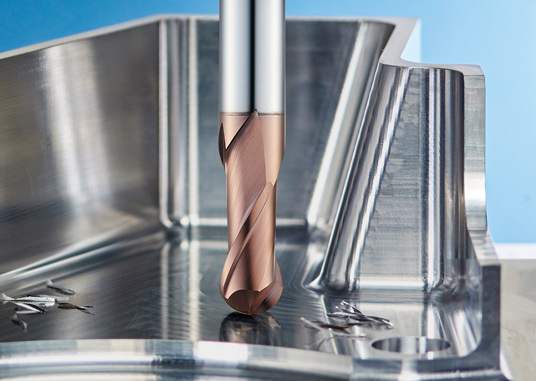 • Good wear resistance and heat resistance
- Ultra-fine substrate and new coating layer
• High precise measurement
- Tight precision tolerance applied on tool diameter and radius
• Good chipping resistance
- Optimal cutting edge and special treatment on it
• Various line-ups
- Normal/rib type and neck type shape