Products
Products
Our precise and durable carbide cutting tools are just
what you've wanted for an innovative tooling solution.


• Exclusive universal grade for indexable drill insert
Feature
• High efficient drill grade with enhanced chipping resistance and fracture resistance
• Universal grade optimized for various types of holes
PC5335

Holemaking is applied for various workpieces with various ways in overall industrial sectors and it requires high performance and stability for the better efficiency.
Holemaking is a difficult level machining due to frequent fracture and welding by low effective cutting speed. Therefore, a stable grade for effective drilling is necessary.
KORLOY introduces PC5335 which is an exclusive grade for indexable drill for high productivity in holemaking.
The PC5335 is an exclusive grade for indexable drill applying for various workpieces in various cutting conditions.
Especially, it shows excellent machinability in carbon steel and alloy steel drilling. The exclusive PVD coating technology, KROEX tech and cutting edge treatment technology, Point polishing tech reduce reaction between tools and chips and high toughness substrate controls chipping and fracture in tool's approaching in and out.
The PC5335, a leading grade in holemaking, provides high productivity and stable cutting quality.
Advantages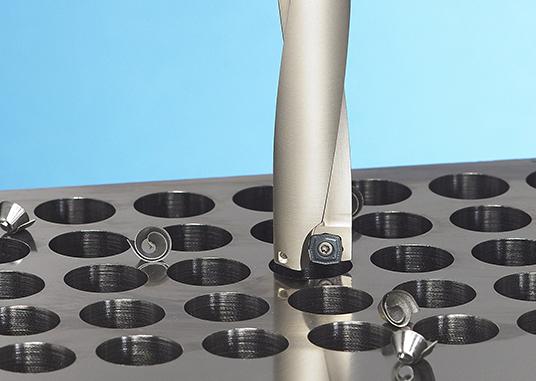 • Excellent machining stability
- Applying high toughness cemented carbide substrate
- Exclusive PVD coating technology, KREOX tech
• Various workpieces
- Available for general workpieces, P, M, K, and S
- Applying special cutting edge treatment, Point polishing tech