Products
Products
Our precise and durable carbide cutting tools are just
what you've wanted for an innovative tooling solution.


• Right angle milling tool with tangential double-sided 8 corners
Feature
• Double-sided insert with 8 corners realizes high cost efficiency thanks to right angle milling with high depth of cut.
• Excellent for productivity improvement because tangential type insert ensures rigid clamping and allows more flutes (extra close pitch) in accordance with a cutter diameter.
TP8P
KORLOY launched Tangen-Pro TP8P, right angle milling tool with tangential 8 corners with KORLOY's differentiated manufacturing technology integration.
Compared to the radial type milling cutters, tangential type insert, which is easier to get enough chip pocket space, can increase productivity because it can adopt extra close pitch and it can bear with increased table feed with its better clamping stability. In addition, the TP8P enhances smooth cutting reducing chattering and cutting resistance effectively in even high speed and high feed machining with its optimal sharp cutting edge.
Therefore, the TP8P increases more than 30% productivity than radial type with its sharp cutting edge and rigid clamping ensure to apply higher speed and feed. The combination of TP8P and PC5300 ensures to apply various workpieces and realizes high cutting performance steel and cast iron machining.
Advantages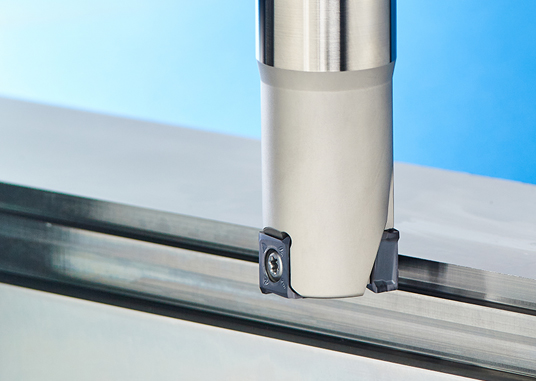 • High cost efficiency
- Double-sided insert with maximum 8 corners usable
• Good cutting performance
- High helix and sharp chip breaker
• Stable clamping
- Tangential-typed clamping structure
• Right angle cutting with 1 step or multiple steps
- Nose R, chamfer type insert