Products
Products
Our precise and durable carbide cutting tools are just
what you've wanted for an innovative tooling solution.


• Shoulder milling tool for high helix
Feature
• High helix cutting edge realizes high speed and high feed machining (15% higher speed than conventional tool's machining) and increases 20% higher productivity.
• Highly precise cutting edge ensures high quality surface finish in milling.
Alpha Mill-X
The recent trend of cutting conditions has been changing to high speed and high feed conditions to decrease tooling cost from high productivity.
However, without tool productivity and rigidity, chattering from impact in interrupted machining reduces surface finish and occurs tool fracture.
KORLOY introduces Alpha Mill-X ensuring high speed and high feed machining with high quality to increase productivity.
Alpha Mill-X with exclusive chip breaker and cutting edge with high rake angle reduces cutting load and controls chattering in machining.
The insert for the Alpha Mill-X is thicker than the conventional ones which increases tool rigidity and realizes stable machining from stable clamping system with flat flank surface clamping structure. In addition, wide wiper minor cutting edge and precise perpendicular cutting edge of Alpha Mill-X ensure milling with high quality.
The Alpha Mill-X with various sized nose-R and optimal grades for each cutting conditions increases productivity in high speed and feed machining with high performance.
Advantages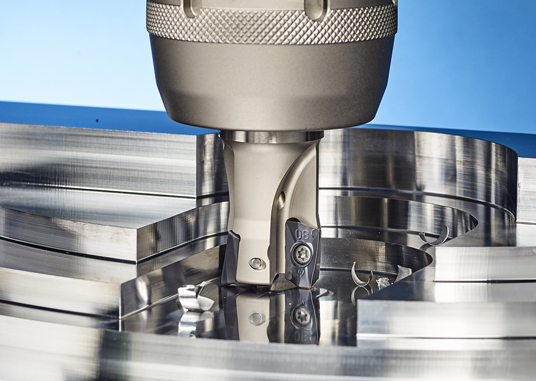 ㆍLonger tool life
- New shape and optimal grade
ㆍSoft cutting and high speed and high feed machining
- High rake angle chip breaker and cutting edge
ㆍStable machinability
- Increased clamping force due to thicker insert and flat flank surface clamping structure
ㆍGood surface finish and perpendicularity
- Wide wiper minor cutting edge and precise cutting edge