Products
Products
Our precise and durable carbide cutting tools are just
what you've wanted for an innovative tooling solution.


• Available for economical and highly efficient machining with implementation of double sided 4 corner inserts and increase in the number of teeth per cutter diameter
• Available for high speed/high feed machining with high helix edge design and excellent clamping stability
Feature
• Economical 4-corner double sided insert
• Increased productivity due to thinner and elongated shape of the insert which makes fine pitch available
• Insert designed for low cutting resistance with high rake angle and helix angle which reduces cutting load
• Inhibiting chipping and breakage due to concave clamping system and stronger screw
HFMD
With the development of the end-user market, the current cutting tool industry has challenges including:
First, discovering highly effective machining technologies that can improve productivity and reduce production costs within limited time and budget.
Second, to find a tool/solution that can easily machine hard-to-cut materials which are becoming more widely used in numerous industries (mold, aerospace, and etc) in pursuit of durability and lighter weight.
KORLOY recommends a new high feed tool, HFMD, which can easily resolve above two challenges.
HFMD insert is a double sided 4 corner insert which is economical and enhances machining productivity by implementing more flutes per diameter. In addition, HFMD has achieved high speed/high feed machining by applying high rake angle and helix design on its edge. These two features have significantly reduced cutting resistance compared to competitors' tools or even against positive-type inserts.
Furthermore, HFMD provides excellent clamping stability by applying concave clamping system on the side, wider bottom face at the clamping area, and bigger sized screws. These will help minimize noise
and vibration, prevent damage of insert with stable machining in high feed machining, and improve the surface finish of the workpiece.
As we can see in these advantages, KORLOY's HFMD is the next-generation high speed/high feed machining solution, one step ahead in the highefficiency machining trend.
Advantages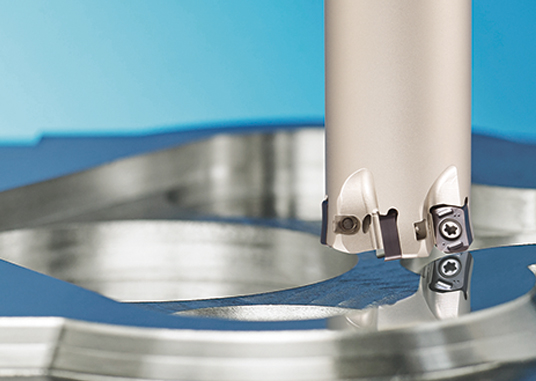 • Highly efficient and economical insert
- Double-sided 4 corners
• Superior clamping stability
- Prevents insert chipping and damage by minimizing vibrations
- Improved surface finish of workpieces
• Realization of high speed/high feed
- High speed machining by applying high rake angle, and helix cutting edge
- Available for high feed machining with the increase in the number of teeth per cutter diameter
• Optimized holder design
- Excellent chip evacuation in slotting or deep shouldering with minimized interference with side walls