Products
Products
Our precise and durable carbide cutting tools are just
what you've wanted for an innovative tooling solution.


• The specialized grade for multi-purpose milling applications of cast iron
• Improved productivity with high speed and feed capability
Feature
• Excellent Surface Finish
- Excellent surface roughness with after treatment implementation of coating layer

• Stable Tool Life
- Optimized PVD coating for cast iron minimizes tool life deviation
PC6510
Cast iron has characteristic that tends to be scattered as broken chips while milling machining. Wear is generated more rapidly at the relief surface where the contact time with the workpiece is relatively longer while the cutting load on the flank surface is low. To machine cast iron, wet condition is generally applied due to heavy dust as the cast iron contains graphite. While machining, cutting fluids keep causing Thermal shock to heated inserts and it leads Thermal crack at the insert's edge part. In addition, Built-up edge is another factor that lowers tool life.
Now KORLOY offers a new milling grade to provide more stable machining for cast iron.
New PC6510 has been implemented optimized PVD coating to prevents Thermal crack, and its after treatment improves its surface roughness that minimizes built-up edge case.
Advantages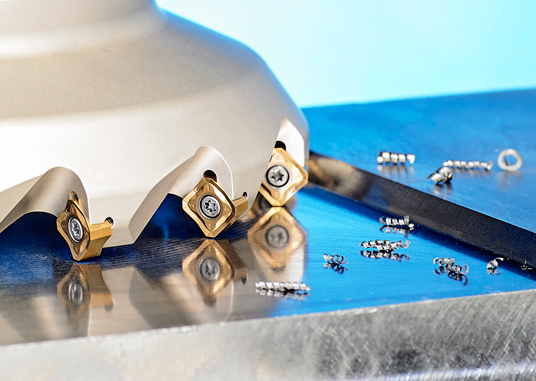 ㆍSpecial surface treatment implementation
- Stable tool life due to inhibited formation of build-up edges
ㆍ Excellent machinability
- Superior surface finish achieved due to implementation of exclusive for cast iron
ㆍUniversal grade for cast iron
- A wide range of application is available