Products
Products
Our precise and durable carbide cutting tools are just
what you've wanted for an innovative tooling solution.


• Endmills for machining dental prostheses made of zirconia, titanium, Co-Cr, wax, PMMA, etc.
• Improved tool performance thanks to the optimized grade for each material (· PC2510: Titanium, Co – Cr  · ND3000: Zirconia)
• Differentiated tools specialized for each type of home and foreign CNC machines for dental purpose
Feature
• For machining dental prostheses made of zirconia, titanium, Co-Cr, wax, PMMA, etc.

• Optimized cutting performance by matching a proper grade with each type of material

• Inhibited unevenness and excellent finish in machined surfaces due to the optimized cutting-edge design

• Specialized tool shape for each machine type
T Endmill
The need for dental implants has grown steadily in step with the increase in the aging global population. Accordingly, many companies are now actively developing dental CAD/CAM machines, and they compete by developing their own proprietary tool shapes. To meet the demand, KORLOY has released the T Endmill that helps customers stay ahead of the competition with a customized tool for each machine.
Dental CAD/CAM technology is continuously developing by taking advantage of X-ray and oral scanners, and many manufacturers have commercialized CNC machines to automate the previous manual process of manufacturing implants. As a result, machining time is significantly reduced, resulting in improved productivity and demands for tools with longer life.
The typical materials of dental prostheses, such as zirconia, titanium, Co-Cr, wax, and PMMA, have different physical and mechanical properties, and each requires an optimized tool solution.
T Endmill uses a specialized grade for each workpiece: ND3000 for zirconia, and PC2510 for titanium and Co-Cr, and guarantees excellent machinability thanks to its optimized blade design.
Advantages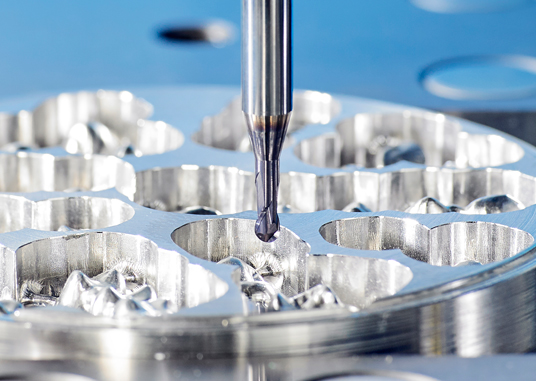 ㆍA dedicated tool for each machine
- Meets marketplace demands
ㆍA specialized grade for each workpiece
- Provides optimized performance for various materials of implants
ㆍOptimized cutting-edge design
- Enables excellent machinability