Products
Products
Our precise and durable carbide cutting tools are just
what you've wanted for an innovative tooling solution.


• Stainless steel Turning insert
Feature
• High toughness PVD coating insert optimized for cutting Hard-to-cut material small and medium sized valve and fitting
• Stable cutting due to applying Edge - Tech™ for increasing chipping resistance and welding resistance
PC9035
Stainless steel is a kind of metal materials used for various industries such as food, medical appliance, automobile components and construction due to its excellent corrosion resistance, high hardness and gloss. Especially it is widely used for valve, fitting and pipe components which require corrosion resistance. Because these components are usually produced under the casting process, they have uneven surface and complicated shape. For that reason, impact in unstable approach of cutting and welding characteristic of Stainless steel leads to chipping and fracture of tools.
KORLOY launched exclusive grade, PC9035 for enhanced productivity in Stainless steel turning.
PC9035 has good chipping resistance and fracture resistance in cutting due to applying TEX Tech™, high toughness PVD coating technology. In addition, Applying Edge-Tech™ maximizes stability of cutting edge, reduces chipping and welding in the beginning of cutting, and realizes stable machining. Especially, it performs excellent in unstable cutting conditions with high interrupted cutting of hard-to-cut materials, small and medium sized valve, fitting and pipe etc.
PC9035 is a next generation grade solution of KORLOY, who leads small sized Stainless steel parts with heavily interrupted machining market, and it provides higher productivity and stable machining qualification.

Advantages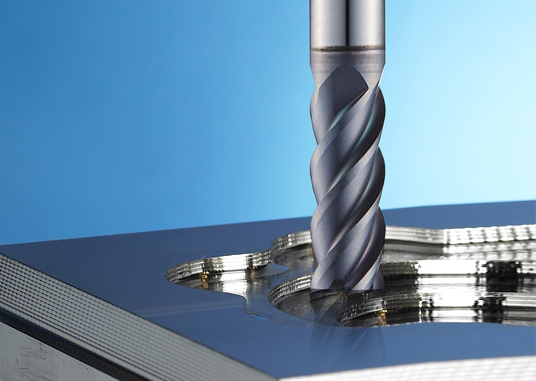 • Maximizing chipping resistance and fracture resistance
- Applying TEX-Tech™, high toughness PVD coating layer technology
• Stable machining
- Increasing chipping resistance and welding resistance from Edge-Tech™
- Preventing unexpected fracture in high interrupted cutting with vibration
• Optimal for valve and fitting machining
- Optimal for small and medium sized hard-to-cut material cutting with frequent interruption