Products
Products
Our precise and durable carbide cutting tools are just
what you've wanted for an innovative tooling solution.


FP Chip Breaker(Positive)
• Turning insert for mild steel machining
Feature
• Actualized low cutting resistance and excellent surface finish by 3-dimensional cutting edge
• Enhanced chip removal in 0.1 mm depth of cut machining and 30% longer tool life due to chip breaker with semicircle-shaped bumps

FP Chip Breaker(Positive)
Continuous and long chip flowing on the tools is formed while machining mild steel (containing 0.13-0.2% of carbon) used for components of automobile and general machinery machining. Remaining long chips create scratches on the workpiece and the chip can curl up with the tool or workpiece which can cause poor machinability in automatic Swiss lathe machining.
KORLOY's newly launched FP chip breaker enhances chip control and surface finish in mild steel machining.
The FP chip breaker applied optimal 3-dimensional cutting edge and semicircle-shaped bump actualize chip curling in finishing and prevent chip blockage providing convenience for automatic machining.
In addition, its concave form and assistant bump on flank surface ensure perfect chip control in machining with lower depth of cut than nose R and back cutting. The sharp cutting edge is suitable for good surface finish per customers' needs and low cutting load prevents chattering in deep machining.
The FP chip breaker with various grades, cermet, coated cermet, CVD and PVD etc. is available for mild steel, carbon steel, alloy steel, stainless steel machining. The optimal structure of FP chip breaker for internal machining and its high performance in mild steel machining without chip blockage provides the best solutions for customers.
Advantages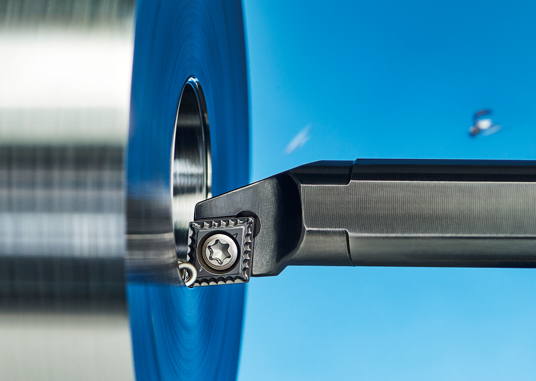 • Stable chip evacuation
- Preventing chip blockage in internal machining
• Excellent surface finish
- Enhanced surface finish and lowered cutting load from 3-dimensional cutting edge
• Convenient to automation in internal machining
- Optimized automatic production due to improved chip evacuation in 0.1 mm depth of cut machining
• Parts made of mild steel and low carbon steel
- Various materials of automobile components